It was indeed a good season. Both teams had successful records with both teams winning league championships, both winning regional championships, and at the MHSAA State Finals the boys finished second on the tie breaker rule and the girls finished third.
Jared Aldrich and Jamie Krzyminski were both state champions for the Cavaliers.
Jared Aldrich, Sr. (15:12) and Jamie Krzyminski, Jr. (17:54)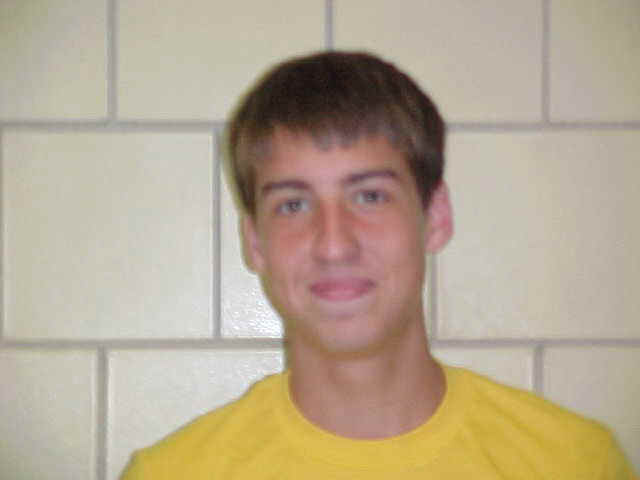 First team All-State harriers for the Cavaliers are
Aaron Lindell Sr. (15:35), Jeremy Canze Sr. (15:25),
and Colleen Lange Sr. (18:34)
THE 1997 BOYS CLASS B STATE CHAMPIONS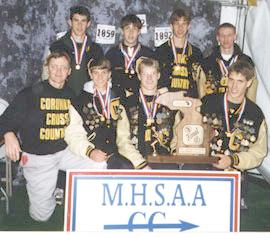 Bottom Row (L-R) Coach Aldrich, Jared Aldrich, Kevin Rathbun, Andrew MacKay. Top Row (L-R) Mike Grulke, Aaron Lindell, Joe Grulke, and Jeremy Canze. Ran at the Michigan Speedway 11/7/1999.
Fall 1998 Schedule
| | | | |
| --- | --- | --- | --- |
| DATE | MEET | BOYS | GIRLS |
| Sep 03 | Corunna Earlybird | 1 | 1 |
| Sep 12 | Corunna Inv | 1 | 1 |
| Sep 19 | Holly Inv | 3 | 4 |
| Sep 22 | MMC # 1 @ Corunna | 1 | 1 |
| Oct 03 | Carson City Inv | 1 | 2 |
| Oct 06 | MMC # 2 @ Mt. Pleasant | 1 | 1 |
| Oct 17 | Reese Inv | 1 | 1 |
| Oct 20 | MMC # 3 @ St. Johns | 1 | 1 |
| Oct 27 | Shiawassee Inv | 1 | 1 |
| Oct 31 | Regional | 1 | 1 |
| Nov 07 | State Finals | 2 | 3 |
Boy / Girls Varsity Runners
MEET
1
2
3
4
5
6
7
Earlybird
1-15:44

1-18:49

2-15:52

2-20:29

3-16:12

3-20:36

4-17:22

5-20:40

5-17:32

4-21:23

6-18:41

6-21:56

7-19:01

7-23:55

Corunna
Holly
MMC 1
CC-C
MMC 2
Reese
MMC 3
Shiawassee
Regional
State
BOYS KEY: 1-Lindell, 2-Aldrich, 3-Canze, 4-Bendall, 5-Krzyminski, 6-Robertson, 7-Currie
GIRLS KEY: 1-Krzyminski, 2-Lange, 3-Johnson, 4-Matthews, 5-Kersjes, 6-Faber, 7-Miller, 8-Sarrazin